The vegetable transplanter is mainly used for transplanting seedlings cultivated by nursery seeding machine, and can also transplant cotton, tomato, pepper, lettuce and other crops. It includes two types such as tractor driven transplanting machine and self-propelled transplanting machine, of which the latter one can match with different powers of tractors.
Type one: tractor driven vegetable transplanter
Tractor driven vegetable transplanter integrates the functions of ridging, drip irrigation, filming covering, transplanting and soil covering as a whole. This seedling transplanter machine has various models with different rows(2-12rows), and you can choose any one on the basis of your need. What you should pay attention to is that you should have a tractor before purchasing it. It is suitable for cucumber, eggplant, cabbage, pepper, sweet potato and other economic crops.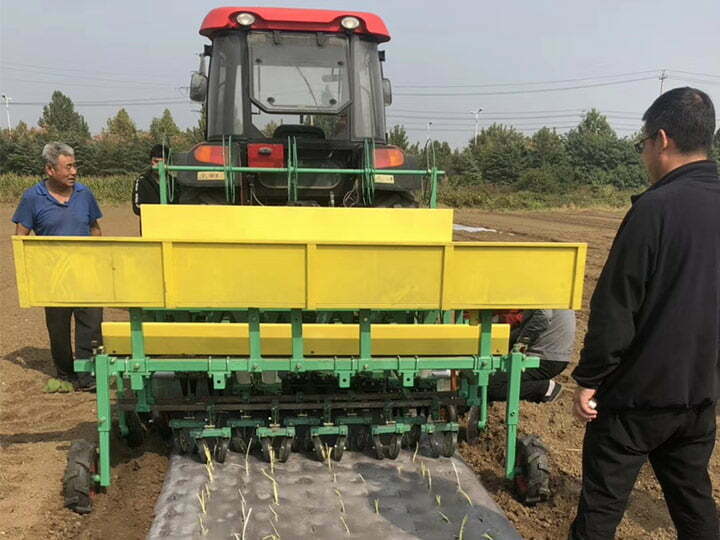 Technical parameter
| | | | | | | | |
| --- | --- | --- | --- | --- | --- | --- | --- |
| Model | TZ-2 | TZ-3 | TZ-4 | TZ-6 | TZ-8 | TZ-10 | TZ-12 |
| Plant spacing | 200-500mm | 200-500mm | 200-500mm | 100-400mm | 100-400mm | 100-400mm | 100-400mm |
| Row spacing | 250-500mm | 250-300mm | 250-300mm | 150-300mm | 150-300mm | 150-300mm | 150-300mm |
| Capacity | 1000-1700m2/h | 1000-2000m2/h | 1000-2700m2/h | 1400-3400m2/h | 2000-4000m2/h | 2700-5400m2/h | 3700-6700m2/h |
| Row | 2 | 4 | 4 | 6 | 8 | 10 | 12 |
| Power | ≥30 | ≥30 | ≥50 | ≥60 | ≥60 | ≥60 | ≥60 |
Type two: self-propelled transplanter machine
Compared with tractor-driven type, self-propelled transplanter machine only can transplant seedlings without other functions such as ridging and film covering. It bears flexible steering and simple operation. Equipped with a gasoline engine, it is easy to move, and is suitable for mountainous and hilly areas.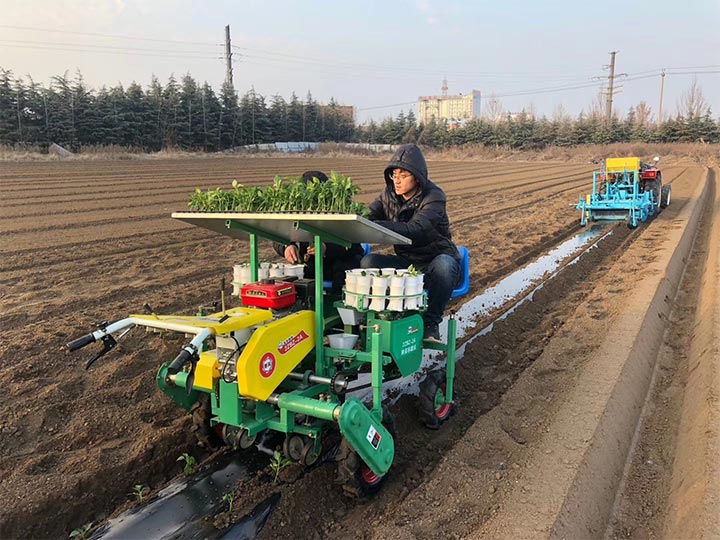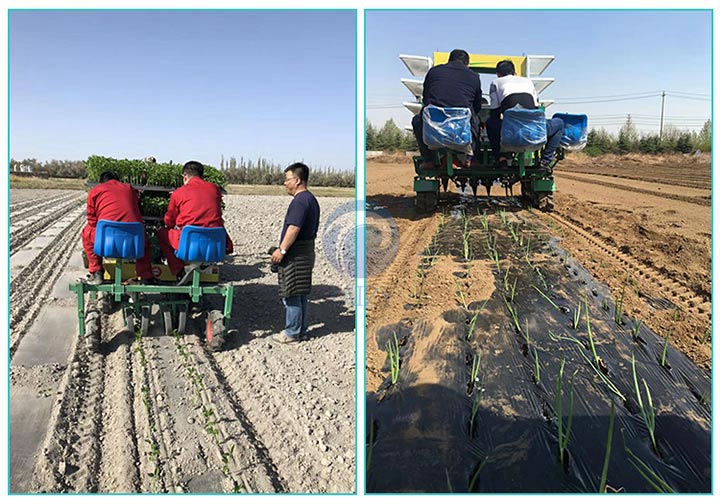 Technical parameter of self-propelled transplanting machine
| | | |
| --- | --- | --- |
| Model | TZ-2 | TZ-4 |
| Plant spacing | 200-500mm | 200-500mm |
| Row spacing | 300-500mm | 150-300mm |
| Capacity | 1000-1400m2/h | 1400-2000m2/h |
| Row | 2 | 4 |
| Power | 4.05kw | 4.05kw |
The importance to use vegetable transplanter
In many areas, due to the high labor intensity and low efficiency of manual transplantation, the row spacing and plant spacing after transplantation are uneven, which affects subsequent returns. In recent years, traditional agriculture has gradually transformed and upgraded. With the growing maturity of seedling technology and rising labor costs, large-scale transplantation needs to be completed by seedling transplanter machine.
1.Transplanting technology can make full use of light and heat resources, improve the yield of crops, and effectively avoid the adverse effects of low temperature in early spring, frost, hail and other climates.
2.It can avoid natural disasters such as pests and drought, increasing the survival rate of seedlings.
3. Because the seedbed occupies less land, the seedlings are relatively concentrated, which makes it easy to manage seedlings in germination and seedling stages.The temperature of the seedbed can be controlled, boosting the quality of crops.
The operation video
Advantages of transplanting machine
1. Vegetable transplanter machine adopts advanced technology with high survival rate without any damage to seedlings.
2. The structure of seedling transplanting machine is reasonable and the application range is wide. It can be used to transplant a variety of vegetables, fruits,tobacco and other economic crops.
3. It has stable performance and can plant seedlings in large area.
4.It is easy to adjust. Plant spacing can be customized according to your requirement, and the row spacing is adjustable.
5.The transplanter machine adopts sprocket and chain transmission, and the planting distance is accurate.
6. This machine greatly improves the quality of seedlings, greatly reducing the cost of transplanting. Meanwhile, the growth period of seedlings is consistent, which is convenient for field management.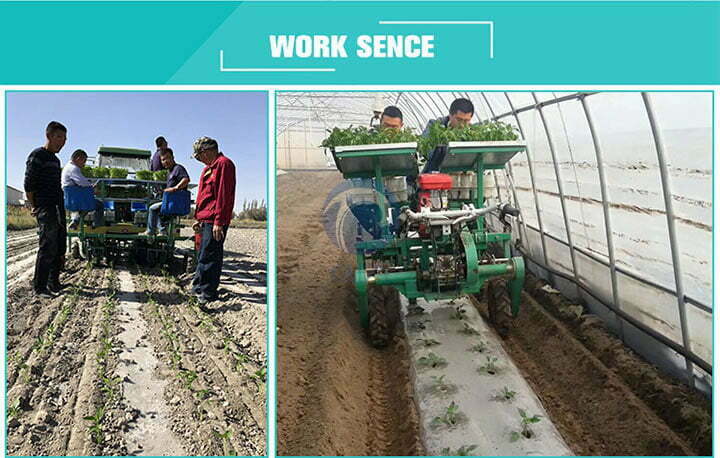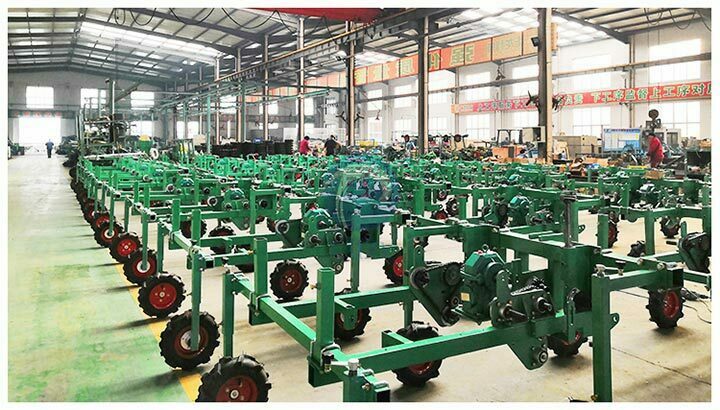 The working principle
The rotation of the crankshaft drives the movement of seedling inserting part that is consistent with the forward movement of tractor. They rise and fall to ensure the seedlings can be inserted into soil vertically. You can replace the sprocket of transmission mechanism to adjust the plant spacing. The horizontal seedling device is able to ensure sufficient transplanting time for seedlings, which effectively reduces the probability of missed seedlings, improving the transplanting efficiency.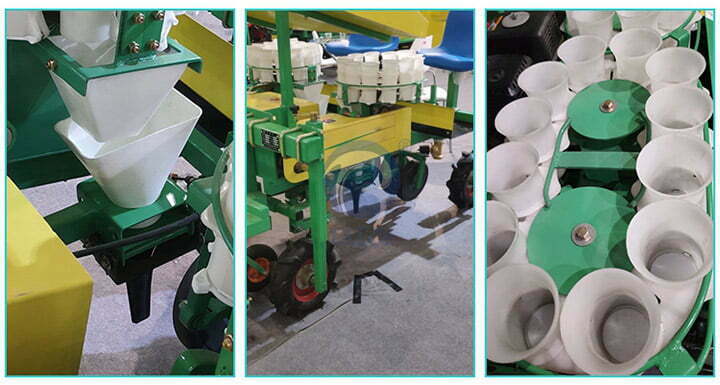 The development of transplanter machine
In the 1980s, a semi-automatic vegetable planting machine was successfully developed. At the same time, a variety of transplanting machines is introduced to plant economic crops such as vegetables, tobacco and sugar beets. However, these machine were not widely to the farmers due to unstable performance and low productivity. In recent years, with the development of Taizy seedling technology, we have manufactured rather mature seedling transplanting machine. Coupled with the emergence of new technologies and processes, it provides a good prospect for the development of transplanting machine.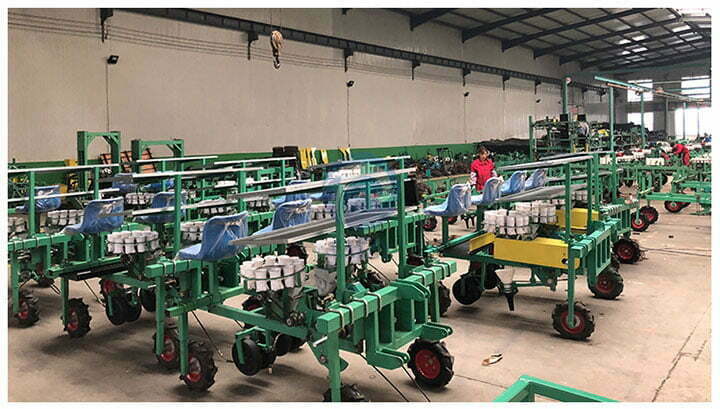 Precautions
1. Before the vegetable transplanter enters the field, check whether the support wheel is in the transplanting state. Raise the two front legs and fix it with the bottom hole.
2. When the transplanter enters the field, the tractor must move slowly while lowering the transplanter machine.
3. The user should keep the enough seedlings on the conveyor belt.
4. When the transplanter machine turns around, stop placing the seedlings.
5. The vegetable transplanter should move straightly and uniformly.